Selec speed control or off road cruise control is a new cool feature added to jeeps recently. With this new option I think off-roading is going to be very easy and this will be a great supporting hand for newbies for off-roading.




What is selec speed control


Selec speed control is a system that allows the driver to drive the vehicle at low speeds (less than 8kmph) without using brake or throttle on uphill, downhill or level grounds when off roading.
So this is a somewhat similar feature to cruise control. But there are few major differences to normal cruise control.
Normal cruise control activates at high speeds. Normally vehicle speed should be greater than 40kmph. 
But this off road cruise control deactivated if the vehicle exceeds 32kmph. 
Next major difference is the drive line should be in 4wd low range to activate this system.
This doesn't activate in 4 high or 2 high.  
So that you can understand that this system is extremely for low speed crawlings and best for the off roaders.


How to drive with selec speed control


To explain how selec speed control works, I'll divide it in to 4 states as below.
Enable
Activate
Deactivate
Dissable / Off
You can find a switch with the sign below, on the front panel of your vehicle. It may be near the Traction control button.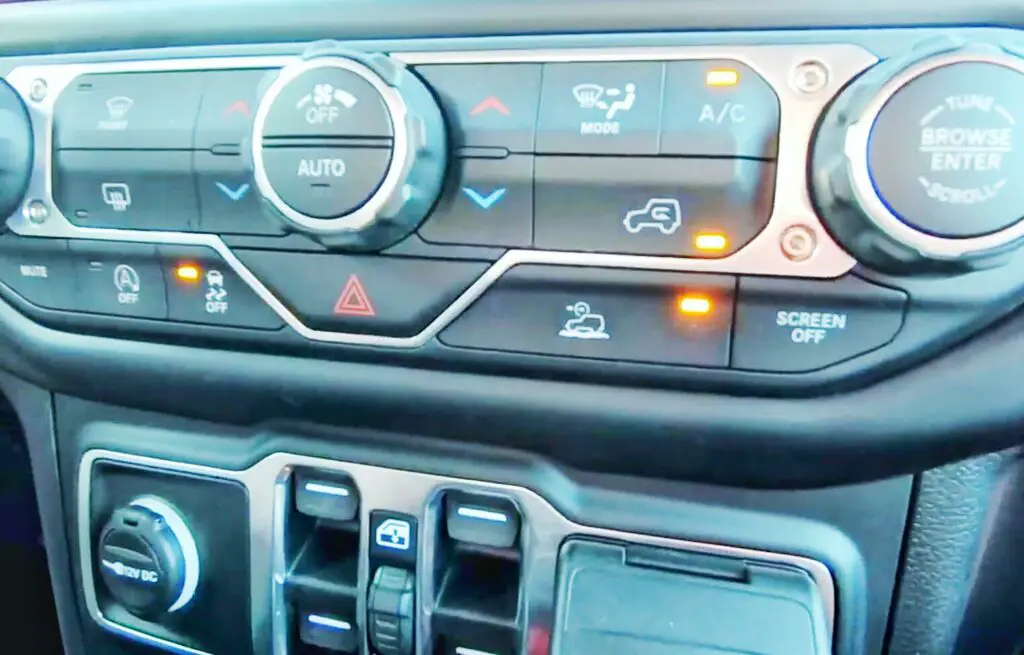 Enable 

1st you have to put your vehicle into 4WD low range and keep your vehicle speed below 8kmph. 
Put the gear into manual (M) position.Then you have to press the Selec speed control button and release brake and throttle both. 
If you have applied the parking brake that should also be released. Driver's door should be closed. 
If one of the above conditions hasn't met Selec speed control will not activate. It will stay on just the enable mode.
That means selec speed control is switched On, but do not affect the riding of  vehicle.


Activate

If all of the above mentioned conditions met , your vehicle now automatically moves forward. (You can drive backward by just putting to R position and doing above mentioned things)
At the start by default your vehicle will move 0.6mph (1kmph).
You can increase the speed up to 5mph (8kmph) by paddle shifting up and decrease the speed by shifting down.
The speeds of Selec speed control mode, according to the gear will be as follows
P = Selec speed control will enable but not activate.
R = 0.6mph (1kmph)
N = 1.2 mph (2 km/h)
1st = 0.6 mph (1 km/h)
2nd = 1.2 mph (2 km/h)
3rd = 1.8 mph (3 km/h)
4th = 2.5 mph (4 km/h)
5th = 3.1 mph (5 km/h)
6th = 3.7 mph (6 km/h)
7th = 4.3 mph (7 km/h)
8th = 5.0 mph (8 km/h)
Now the vehicle will crawl uphill or downhill according to the driver's set speed. It automatically applies brakes and nicely crawls down in downhills.
Actually it's an amazing feature. We just have to steer the vehicle and keep our legs freely on the floor board. 
But  it's safe to be ready to push the pedals if something goes wrong if you are doing extreme off-roading. 


Deactivating Selec speed control

If you press your brake pedal or throttle SSC will automatically deactivate.
If you shift your gear into P position SSC automatically deactivate, Or else if you exceed 20 mph ( 32kmph) and remain below 40 mph (64kmph) SSC will be deactivated.
Keep in mind that the above conditions just deactivate the SSC, not disable/switch off it.


Disabling Selec speed control

Driver can easily disable SSC by pressing the selec speed control switch.
Apart from that, the following things also disable SSC.
If driver door opens
If parking brake applied
If driveline shifted out from 4WD low range
If the vehicle is driven higher speed than 40 mph (64kmph)
If the vehicle drives higher speed than 20 mph (32kmph) for longer than 70 seconds.


How do I know whether my vehicle have selec speed control

You may find a switch with a previously shown sign on your dashboard. When SSC enabled, the instrument cluster will indicate the SSC icon.
Check vehicles owners manual for more details.


Wrapping up

So far I discussed how the selec speed control (SSC) / off-roading cruise control works.
But keep in mind drivers must be aware about terrain conditions and maintaining a safe speed according to the terrain.  
SSC will only assist the driver to control vehicle speed on off-roading conditions.
Use this option according to your needs for comfort and fun off roading.
Finally, if you find this article helpful , share with your off-roading pals. You just have to click a share button below. 


Have fun and safe off-roading pals !!