You may have seen there are stickers with f×4 on the hips of some ford trucks.
What does that mean? Is it another way of indicating 4×4 ? These questions may come up to your mind.
In this article I hope to cover up all the things you should know about f×4 and differences between f×4 and 4×4.
F×4 is the off roading package of ford trucks.Previously it was named as off roading package. But after 2002 it came to market as f×4. Here the "f" in f×4 means "Ford". Nothing else. 
Let's see exactly what are the differences between f×4 and 4×4 packages in ford f-150 trucks.




Differences between f×4 and 4×4


Feature
f-150 f×4 package
 f-150 4×4 package 
Dimensions 
     same
     same
Suspensions 
Improved rear
Rancho
suspensions
Normal suspensions  
Armors
3 Under armors
for
essentials parts
No under armors
Hill decent Control 
Available
Not available
Electronic Locking axles 
Available
Not available
Those are the differences briefly. Now let's see those differences and main features of F×4 in detail.
Keep in mind that this comparison is not a typical theoretical comparison.
This is exactly what I observed as differences among F×4 and 4×4 in f – 150.


Body dimensions

There are no differences in body sizes among f×4 and 4×4. Both have the same width (2.03m) and length (5.89m).  
Hight also bit the same from the front. But due to the improved rear shocks there's a slight increase of height in the back of f×4.


Suspensions

There are improved rancho rear shocks in F×4 than 4×4. There's a difference in attachments of those rear shocks also.  
In the 4×4 truck rear shocks attach from the rear of the frame and come down declining forward to attach with the axle.  
In F×4 rear shocks attach to the front of the frame and decline backward to attach with the axle.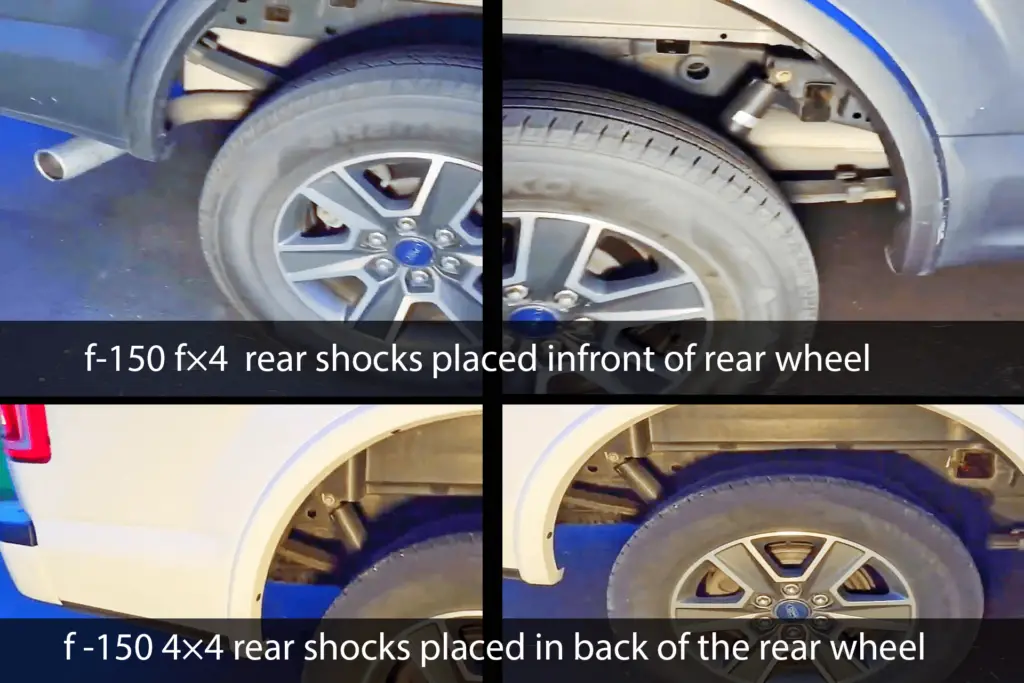 As I mentioned earlier F×4 is an off-roading package. Shocks are improved for tough riding purposes on off roads.  
These rear shocks are somewhat tighter than in 4×4.
Because of that when driving on pavements it gives a bit of a tough drive feeling.
This gives a little bumpier ride on pavements. 


Under armors
This is the next important feature available in F×4. There are 3 skid plates fitted to protect important components that are vulnerable to damage when off-roading.   
They are front differential, transfer case and fuel tank. Thickness of them is somewhat low.
But I think they do the job pretty much. 
The fuel tank skid plate is very important. Without that fuel tank can easily be damaged when off-roading according to it's placement under the truck.
Skid plates fitted under the transfer case and differential also comes handy when off-roading.
In the 4×4 version there are no skid plates. Fuel tank, transfer case and differential are exposed to ground obstacles.
There is a form pad placed under the front area.   But it can't give proper protection from obstacles on the ground.
If hit on a rock or log on ground this form pad is easily breakable.
This can give a Little protection from dust,debris or saltiness on pavements in winter. 


Hill descent control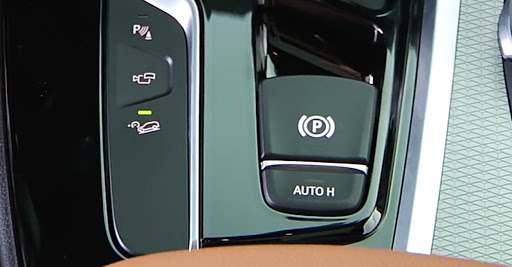 Hill descent control is also an important feature in F×4 that is not included in standard f-150.
When hill descent control engaged the vehicle automatically controlled the spin of wheels individually by controlling the braking.  
This is very useful when descending slippery hills while off-roading. This control is done by the vehicle computer system.
This is a very impressive option in F×4.


Electronic locking axles

If you are an off roader you know the importance of a locking axle. It can save you from a lot of sticky situations in off-roading.
This F×4 comes with electronically locking rear axles. It's not in the standard f-150. So as the off-roading package F×4 integrated with it.
F×4 has an improved transfer case with a fly on shift. So 4WD can engage while the truck is in motion.
So those are the main differences among Ford F×4 and standard f-150 trucks.
But there are F×4 packages in ford Ranger and ford Super duty trucks also.
So I had created another table including their features and differences.


Ranger
 f –  150    
Super duty
Skid Plates available     
Skid Plates  available 
Skid Plates   available 
Rancho shocks 
Rancho shocks     
Rancho shocks 
Hill descent control available 
Hill descent control available     
Hill descent control available 
Terrain management system
and trail control    
Electronic locking axle    
Electronic locking axle
17″ or 18″ off road tires    
       –
      –

As you can see in the table ranger has more capabilities than the other two regarding off-roading. Yes that's true.  
Especially the terrain management system and trail control add more capabilities for the truck regarding outdoor adventures.
If you are serious about off-roading and your number one reason for buying your truck is off-roading, then Ford Ranger is the best option for you. 
Ford ranger manufactured with off-roading in mind. It's body dimensions , body design, options are specially created for off-roading.
Heavy duty and f-150 are best for towing/ hauling. Their F×4 packages can do off-roading to some extent.
Not serious off-roading. The F×4 package has improved the towing and hauling with the rear locking axles.
If we place f×4 packages of these three models in order according to the off-roading capability, Ranger is in the top. f-150 is in the middle.
Heavy duty is in the last position. 


Final words

When comparing F×4 and standard f-150, the F×4 has somewhat tough driving experience on pavement.
When cornering F×4 is better due to the improved shocks. But this can feel all the bumps on the pavement.
Standard f-150 gives a more smooth ride on pavement. Good for long trips.
so those are the differences among F×4 and 4×4 packages. I think you can get a better understanding about that.  
If you think this article may be helpful for your friends, share with them. It's easy. You just have to click one of the share button below.  

 
Have fun and safe off-roading !!  


Featured image credit :www. ford.com