Yes, skid plates are mainly important for vehicles to protect the undercarriage crucial parts from being damaged by hitting or abrasions on the obstacles.

But it may be not much important for every vehicle.
In this article we'll discuss how much important a skid plate to your vehicle, there pros and cons.



What is a skid plate ?
Skid plate is a plate that is mounted under a vehicle to protect different undercarriage components from damages by obstacles in tracks.
These plates are made of different materials to achieve different purposes. Cars, trucks, and mainly off-roading vehicles take advantage of skid plates.
Some manufacturers built vehicles with stock skid plates.

According to the vehicle, the purpose of attaching a skid plate may differ. Let's see what those purposes are.


Why does my vehicle need a skid plate ?


On pavement
If you have a car with a stock skid plate there may be a few reasons for that. Most of the time luxury car manufacturers attach a skid plate into their vehicles.
Normally those cars have a very low ground clearance.
That means there's a huge probability to hit the underside of a bumper on roads and smash crucial parts like oil pans, fuel tanks, control arms. 

Next main advantage is to protect the engine bay and under parts from debris and other dirts on roads.
Skid plate avoid these things from sticking and cause problems for engine, belts and electronic components.
If you are living in an area with regular salty conditions on roads, skid plates are important for your vehicle.

It's said that there's an effect on the temperature of the engine by skid plates.
But I don't have much experience about it.
Theoretically said that there's an air flow diversion in the engine bay due to skid plate and it helps to reduce the engine temperature than without a skid plate.

Another factor considering cars is aerodynamics. At higher speeds, air goes through under passage of the car and will be turbulent due to uneven shapes of the undercarriage.
But with a skid plate that case is solved. But this does not have a big impact on the speed of the car. As a side effect this also happens.

The above last two points may not affect much on your car. But other mentioned facts are important for your car.


Off the pavement 
When it comes to off-roading vehicles, a skid plate may be a life saver in many situations.
There are different types of skid plates to protect different areas and parts. If you are a rock crawler I think you know how important that is.
Not only in rock crawling if you wish to wheel in mud , sand, or any off-roading terrain skid plate will help in different ways.

As I mentioned previously protecting crucial parts hitting against rocks, logs or any obstacle and abrasions against sands is done by skid plates.

In off-roading, protecting undercarriage parts is a must. Especially in rock crawling and other off-roading activities there's a huge chance to break transmission unit, transfer case, rear differential  oil pans, drive shafts, axles, controlling arms, and fuel tanks by obstacles on terrains.

More than in pavements it's very important to protect engines and other components from mud, sand and other debris when off-roading. Skid plates give good support for that purpose.


Different types of skid plates

Belly pans
There are skid plates that cover the whole underside. Generally we call it a belly pan.
This may be a one big sheet of skid plates or a chunk of small skid plates that tile underside of the vehicle.
You can watch the below video for get more information on belly pans if you like.




Front center skid plate
This is mounted under the front bumper and covers the front parts of the engine bay.
Mostly the radiator and horses, motor, main frame and other crucial parts.

Front center skid plate is a good investment for mainly off-roaders. So many things can happen to damage this area of an off-roading jeep.
A log or a huge root protracted from ground can cause a huge trouble by breaking the radiator or a horse in the middle of nowhere without a skid plate.
In that case front center skid plate comes in handy.


Front suspension skid plate.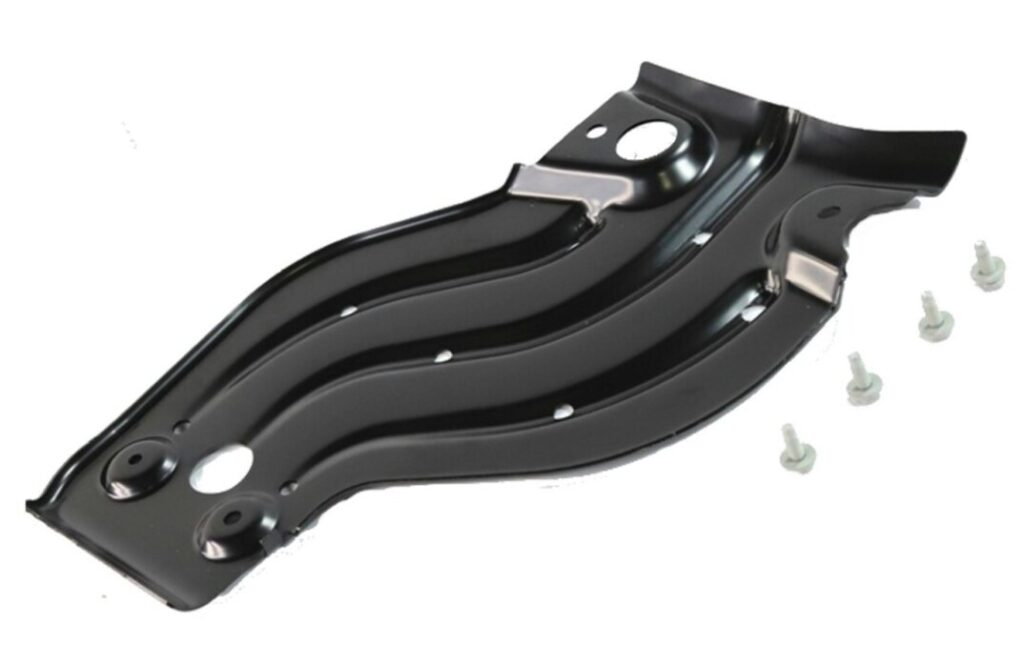 Lower arm protectors/ front suspension skid plate help to protect mainly lower control arms.
They are also a vulnerable part that could be damaged when off-roading. It can lead to steering problems.
Front suspension skid plate gives protection against strikes that can happen to the arms. 


Materials that skid plates made of..

Mainly skid plates made of steel, aluminum, hard plastic or carbon fiber. There are pros and cons to every of these as usual.
So it's wise to choose the material according to the conditions that the vehicle used.


Steel.

Skid plates made of steel are a bit heavy and more customizable. If your vehicle is using in conditions that the weight of the vehicle is gives you a disadvantage this is not a good choice.
If you are frequently wheeling in sand this type is not suitable. 

For rock crawlers these skid plates give many advantages. Because of the high strength, protection against rocks also high.
Metal skid plates are easily slid over rocks so it is also an advantage for them.
The thickness of the skid plate may vary from one third of an inch to one sixteenth of an inch. 


Aluminium.

This is a strong and low weight option. But not stronger than metal. But it can bear enough impact.
Rock crawlers also used these skid plates. but there's a kind of disadvantage for them than other materials.
Aluminum does not help much for sliding on rocks. Resistance for that is higher than metal and plastic.
The cost also higher for aluminum skid plates.


Hard plastic/ABS.

Acrylonitrile butadiene styrene or ABS is a kind of hard plastic that is used to make many plastic products.
Skid plates made by ABS are lightweight and strong. Lightweight off road vehicles, UTV's use these skid plates.


Carbon fiber.

These are also very strong and lightweight material used in manufacturing many products.
Mostly carbon fiber skid plates are used in skid plates of dirt bikes.



Cons of using a skid plate

Using skid plates the weight of the vehicle can be increased which affects the fuel efficiency.
But using a lightweight material this can be avoided.

Skid plates can keep mud, dirt and other debris in their small crannies. So it can cause rusting of different components including mounts, nuts and bolts of the skid plate.
Continuous checking and maintaining can avoid those problems

To repair undercarriage parts, you may get a bit extra work to remove the skid plate.


 Conclusion

But apart from everything the scratches, debris and scars on the skid plate shows you how much it protects your undercarriage equipment from damaging.
So according to your needs it may differ whether your vehicle needs a skid plate or not.
If you are driving on pavements daily basis and road conditions are also fair enough you may not need a skid plate. 

If your road conditions are not good and there are saltiness or debris on your roads frequently or else you are an off-roader then it's wise to choose a skid plate.
The material you may need also depends on conditions you are using your vehicle as described in this article.
Choose a suitable skid plate and protect your undercarriage.
If you think this guide may be helpful for some one else, share this with them. You just have to hit a share button below.
Have fun and safe off-roading !!