As off roaders, we have to beat different terrains in different weather conditions. Always we try to focus on modifying our rigs as much as possible to beat different terrains.
But did you ever think of modifying ourselves to deal with those terrains??
That's why I thought to write this article on improving the safety of ourselves from the boots section!!
According to my experiences and many other off roaders experiences, Best boots and shoes for off roaders, lines up as follows.
Meindl perfekt light hiker boots
TideWe Hunting boots
Salomon Men's Quest 4D 3GTX Boots
Danner Men's Vital 8″ Hiking boots
Red Wing Irish setter Men's Ravine Hunting Boots.




What should we consider before buying boots for off roading

Before reviewing the above boots and shoes one by one, I should tell you what are the things considered when choosing them as suitable for off roaders.


Should easy to use jeep pedals

First thing is, we should be able to feel our jeep's pedals perfectly while easy to pedal them without any obstructions. If you are driving with just bare feet it's ok.
Some jeepers found that it's easy to pedal for a long time with wearing boots/shoes or sandals.
There's no harm to use just bare foot for riding a jeep like riding ATVs or Dirt Bikes


Should have a good grip on different trails when working out of the jeep

This is the situation where off roading boots are very much important. We have to get out from the jeep on the trails.
Jeeps can get stuck in mud/ water or else when rock crawling there are instances where we have to do outdoor activities.
So you should have a suitable boot which can give good traction on slippery/ sticky terrains and good ankle support to protect ankles from twisting on uneven terrains.
Most importantly boots should be lightweight and comfort, but have a good strength and waterproof ability to last long with abusions.
If you are a spotter when off roading, you should wear proper boots/ shoes which can give a good traction even on wet surfaces.
Otherwise you can be faced to fatal accidents while spotting the jeep.


Should be easy to clean

Before you get into the jeep, boots must be easy to clean. Muds and debrises must get away easily from the sole.
Those are the main things to be with your off roading boots, to protect you on the trails.with those things in mind lets go see about the off roading boots reviews.


Meindl boots from Cabela's (perfekt light hiker)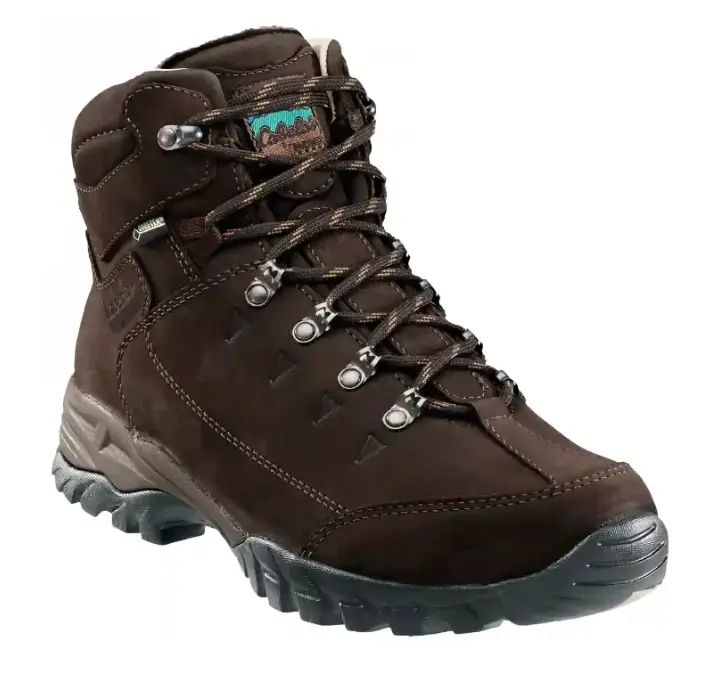 Price range : $130 – $239 weight: 2.9lbs (per pair)

Meindl is a great product from Germany. Without hesitating we can recommend Meindl boots, because of their products quality for decades.
There are some users who use these boots for many years without problem.

Things we like

Protection
Protection is most important for us when working out of the jeep on trails.
Most importantly waterproof ability should be there in our boots as off roaders.
Mostly we may have to get down from our jeeps when it gets stuck on mud or a water puddle. So waterproofing is important.
This Meindl perfect has both those abilities perfectly. It gives a good protection to our feet with it's rugged body design.
It has a PrimaLoft Gold Eco insulation, which means you get all the warm needs for your feets with a little weight. In the cold days it will comfort your feets on trails with necessary temperature.
It has a Gore tex membrane with pores smaller than a water droplet but larger than a water vapour molecule.
With that your feets will stay completely waterproof but your feets will not get wet from sweat. They will easily get out.
These are heavy leather hiking boots, but very comfortable from inside.

Flexibility
As off roaders this is the next thing we have to consider when buying boots.
They shouldn't be rock solid. They should have good strength as well as good flexibility. Otherwise it will be hard to use jeep pedals on trails.
But Meindl perfekt have both of those abilities. It's not flexible like running shoes.
But it has good enough flexibility to drive your jeep comfortably. The nubuck uppers flex enough for each step.
These are hunting boots. people wear them and walk for hundreds or thousands of miles throughout the lifetime of these boots.
So you don't have to worry about driving your jeep wearing Meindl perfekt boots.

Support
As I mentioned at the start, we have to think about the ankle support given by our boots on the uneven terrains.
Otherwise a twisting injury can ruin your whole off roading journey from a moment.
These boots have mid height nubuck uppers which gives plenty of ankle support.
Actually these are made for giving ankle support for backpackers like hunters and hikers.
Normally we don't have such a weight on our backs when working on trails. With Meindl perfekt boots you will get enough ankle support.

Sole
According to most of the users this sole has a sole!!
This has a rocker style sole and the 4-layer cork footbed makes walking much comfortable.
This footbed molds to the foot overtime and makes the boot more comfortable.  
The memory foam lining fits every foot. This has more room on the toe box and width near the toe ball that keeps the big toe straight overtime.

Durability
Meindl is a brand that is paired with durability. This perfekt boots also shows that to users for years. You will get what you pay for with these boots.

Things we don't like
These boots may feel somewhat heavier than your day hike boots. It's just due to the durable materials and solid finish of them.
But it's not a huge problem. When you use it, you will be okay with it.


TideWe hunting boots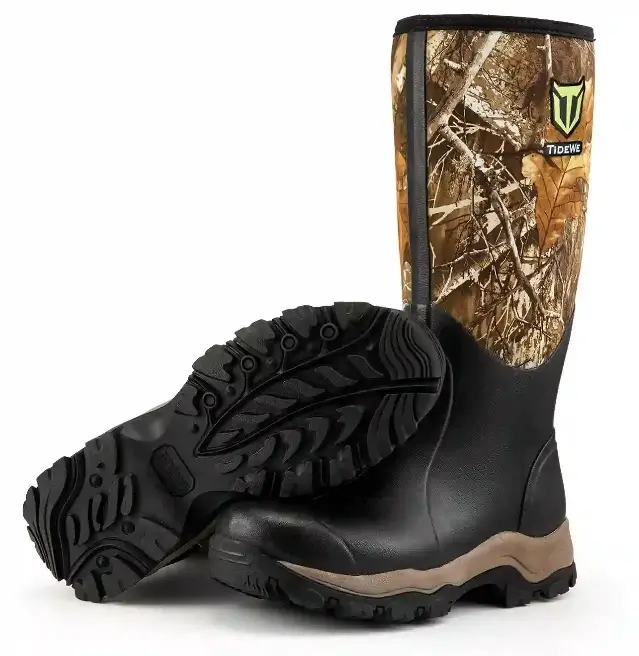 Check Latest Price on Amazon  

Weight Range : 3.66 lbs – 5.22 lbs (per pair according to size)  
TideWe is a good waterproof hunting boot that can be bought for an affordable price range. Normally less than $100 you can buy this.


Things we like


Protection and flexibility.
These TideWe hunting boots are made with 6mm Neoprene and Rubber.
There are CR flex – form which is light weight,100% waterproof, absorbs impacts, retains heat and flexes with our feet as we walk.
With its lightweight rubber neoprene material outside and CR-flex foam materials, TideWe hunting boots give you a good comfort on trails when wearing it for a long time. Easy to put and take off design.

Support.
This is made with shock resistant features. Toe and heel guards protect you from rocks and debris. Rubber boot sole has an anti-slip design.

Durability.
As I mentioned earlier this is a polyurethane material. It is tough and durable as rubber, but lightweight.
so you don't have to worry about the strength and durability.
Most important thing I see in this TideWe hunting boots is, you will get higher end expensive boot's features, for a fraction of the cost.
You get enough comfort, protection & traction on the trails outside the jeep and enough flexibility and light weight to drive the jeep easily.
There's Nothing we don't like in these boots. We get more than enough what we paid for!!


Salomon Men's Quest 4D 3GTX Boots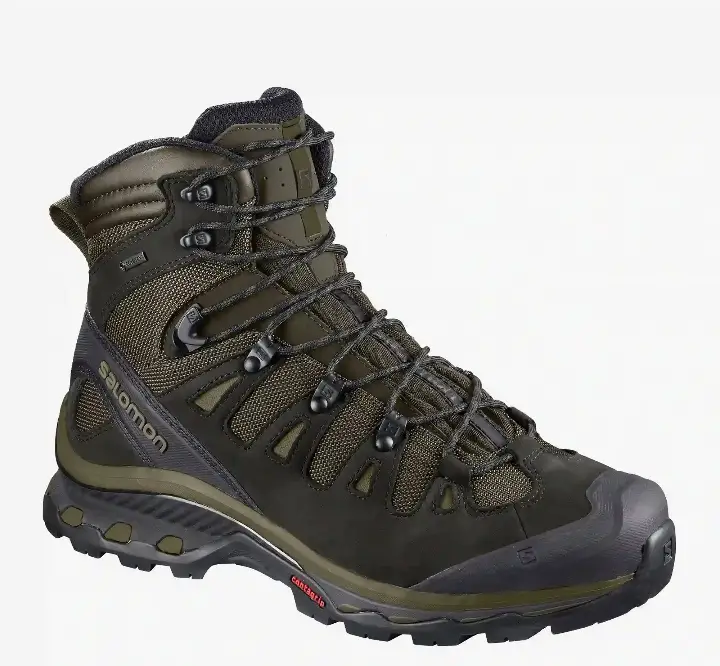 Check Latest Price on Amazon  
Weight – 2.8 lbs (per pair)  


When talking about off road boots Solomon is a must. They are specially designed boots for hikers.
With lots of research and previous experiences from the hikers all over the world, they upgrade their products quality with time.
Solomon Men's quest 4D 3 is an overall better option for you on the trails when you are driving the jeep and working outside on the trails.


Things we like in quest 4D 3GTX


Protection and flexibility

100% synthetic manufacture with a rubber sole. High quality boots used Nubuck leather or full-grain leather. This is made with nubuck leather mixed with nylon mesh and fabric for breathability.
With these materials around your foot, gives you good protection from obstacles on the trails.

Waterproofing
Gore-Tex performance waterproofing comes with these boots to tackle with water puddles or mud puddles without any problem.

Comfort
When considering comfort, we can give 5 stars for that. Good interior cushioning and deep eyelet lacing system at the ankle helps to keep the foot in place.
These boots drop into the midweight category. (640g per shoe). This fits narrow.

These boots have enough flexibility to ease your jeep pedaling.


Support
When quest 4D 3GTX laced, it grabs our heel and arch area keeping foot very secure and super comfortable.
With this ankle covering, ankle rollings are protected on uneven terrains, rocks.

Sole
This sole is a contagrip sole. Can be introduced as a stickiest and grippiest out sole among the hiking boots. So it gives excellent traction on the trails.

Durability
Quest 4D 3GTX reinforced with a hefty rand that wraps up around the toe. With that, these boots avoid boots catching on boulders and tearing the rand.
When compared with premium boots in the market this may not be the best durable boots. But overall it's durable enough for the price.


Things we don't like
The price tag is high. It will cost you about $200 for this pair.
For hot weather conditions these boots may not be the perfect choice.


Danner Men's Vital 8″ Waterproof Hunting Boot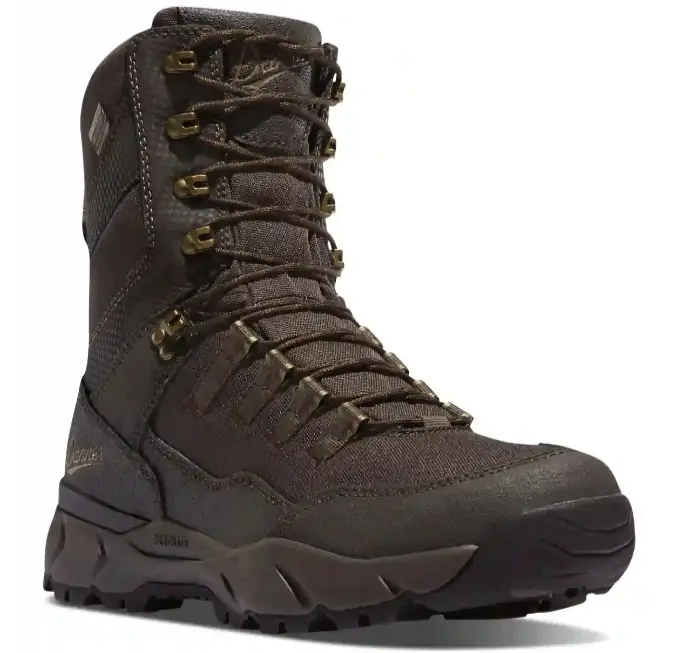 Check Latest Price on Amazon      
Weight : 2.93 lbs (per pair)

Danners has a fantastic reputation for top of the line hunting boots, and they had it for good reason.
The Danner Men's vital 8″ waterproof hunting boots are one of popular boots among off roaders.
With the comfort, lightweight, protection and foot support you will not regret for buying Danners!!  


Things we like


Protection and Flexibility

Off road trails means stepping in to brush, sticks, rocks and a lot of unpredictable obstacles.
To protect you from those things, the leather components rugged with abrasions resistant coating. There's a dry liner to ensure waterproof ability.

Support
There's a floating tongue which allows for better air flow and comfort when working on the trails outside the jeep.
Foam panels located strategically inside with varying thickness to enhance the support cushioning you need with stripping unnecessary bulk and weight.
Gives a good ankle support on the trails.

Sole
There's a plyolite midsole which gives plenty of cushioning, while keeping things light but improving durability.
There's a custom outsole that grips moss, rocks and slick surfaces with ease

Durability
With a union of 100% leather and textiles and Danners manufacturing standards durability is embedded with these boots.


Things we don't like.
The waterproof lining does not work fine in some units. Some users find that their feets get wet after walking among wet grass for a few hours.


Red Wing Irish setter Men's Ravine Hunting Boots.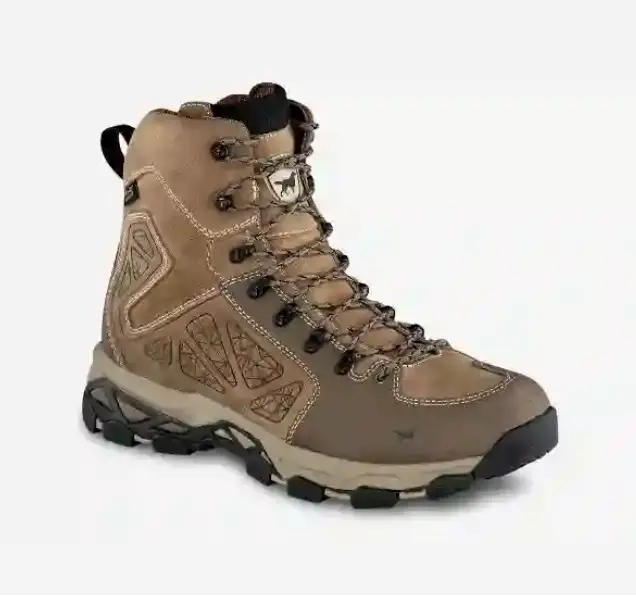 Price : $ 184.74 – $ 189.95   Weight : 3.7 lbs (per pair)  


Redwing is a name that binds with hunting and hiking by making years lasting durable boots.
They are primarily handmade in the USA by American materials. Irish setter is a division of Redwing.
Red Wing Irish setter Ravine is a boot that gives a cool look, super comfort, excellent protection and durability for you in tough trails.


Things we like


Protection and Flexibility 
This is manufactured with 100% leather with rubber sole. The shaft measures approximately 8″ from the arch.
Boot comes with ULTRADRY construction which keeps moisture away and waterproof inside.
There's a 400 gram primaloft insulation to keep warm inside. But this fit's like a sneaker. Boots are lightweight.(1723.65g for both shoes)

Comfort
Irish setter's CUSHIN comfort tongue technology is a speciality I saw in these boots.
They think about the comfort from the sole as well as top of the boots.
That's why they specially designed the tongue with their CUSHIN technology which fit comfortly to the shin.
It minimizes the pressure felt on the shin from the top of the boots.

Sole
Next speciality I saw in these boots is it's special sole design. It's a rubber sole.
But there is a TPU anti-torsion chassis that runs from heel to forefoot for extra stability. In that TPU chassis there are lugs which self clean the mud and debris from the foot!!  
This is very important for jeepers when working out on the trail and getting into the jeeps.
We don't want to bring all the muds and debris to the jeep. These boots are easy to clean on the trails.
Next thing is with those lugs and dual density midsole between layers of eva and TPU returns energy back while keeping a superior stability on rough terrain.
Gives good ankle support with it's design but we don't have to worry about it's flexibility. It gives enough flexibility to drive our jeep.


Things we don't like
High price tag. These boots will cost you more than $180.


Those are the best boots I found for jeepers to hit trails while protecting their feet from the rocks, muds and all the obstacles on the trails.
These boots are durable and worth the money you pay. Some of them last for many years without any problem.
If you find this article helpful, share it with other off roading pals. You just have to click a share button below.    


Note: Above prices can be changed without prior notice. I just add those prices to take an idea about the price ranges. For the exact prices check the relevant manufacturer's website. Weights can be differ with the sizes of the boots.


Have fun and safe off roading!!